Spine Balance: Kati Vasti
Spine Pain Management with  Kati Vasti Treatment:
In this treatment, warm medicated herbal oils are used to treat the Spinal or Back muscle injuries.
This warm oil is poured and pooled for a period of time in a compartment made of flour dough, which has been shaped like a pool, on the spinal area.
The treatment is completed with a massage of the entire back using the warm oil.
This warm, soothing treatment helps to reduce the inflammation naturally by incresing the lood circulation and reducing the congestion of the spine.
Spine Balance therapy is beneficial for sports injuries and work related repeated stress injuries
Other indications include
Lower Back Aches

Whiplash injuries

Sciatica

Sponylosis : Cervical and Lumbar

Slipped discs, where the pain is relieved with the warm medicated oil.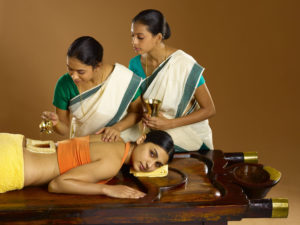 ---
---