Kizhi Massage: Joint Pain Management Therapy
Kizhi Massage: Herbal Powder Bolus – Bag therapy: 
Deep tissue massage for the whole body with herbal powder mix is called Kizi massage. Kizhi massage helps to strengthen your nerves and warm up your circulation. It is recommended to improve the Vata imbalances and pain related joint problems. This is also recommeded in Kapha conditions like over weight and lethargy. 
The bolus bag is a therapeutic herbal treatment where a muslin cloth is filled with medicinal herbs, heated and then massaged on specific areas where there is pain, swelling, stiffness or inflammation. It is used to relax, strengthen and rejuvenate joints, muscles and soft tissue in all areas of the body. 
Specific Indications:
Osteoarthritis

Rheumatoid Arthritis

Spondylosis – Lumbar / Cervical

Sciatica

Myalgia etc.
This treatment is available in Ayur Health Clinics, in Adelaide
Read more: Treatments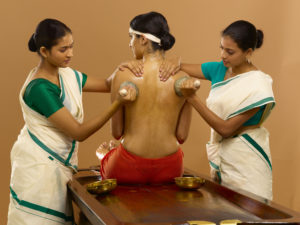 ---
---