9 Things to Get ready for Yoga practice !!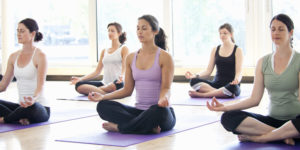 Prepare your day to kick start Yoga practice
1. Personal Cleanliness – an important prerequisite for Yogic practice. It includes cleanliness of surroundings, body and mind.
2. Calm Environment: Yogic practice will be more beneficial if performed in a calm and quiet atmosphere with a relaxed body and mind.
3. NO Fullness: Yogic practice should be done on an empty stomach or light stomach. Consume small amount of honey in lukewarm water if you feel weak.
4. Be light: Bladder and bowels should be empty before starting Yogic practices.
5. Soft Platform: A mattress, Yoga mat or folded blanket should be used for the practice.
6. Loose cloths: Light and comfortable cotton clothes are preferred to facilitate easy movement of the body.
7. No Sickness: Yoga can be avoided in state of exhaustion, illness, in a hurry or in acute stress conditions.
8. Check with Doctor: In case of chronic disease/ pain/ cardiac problems, a physician or a Yoga therapist should be consulted prior to performing Yogic practices.
9. Safe Practice: Yoga experts should be consulted before doing Yogic practices during pregnancy and menstruation.
---
---