Ayurveda Training for Kids with Autism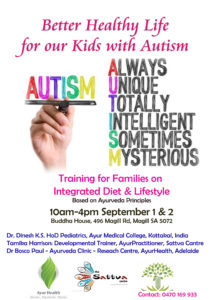 ASD Workshopv4
Two Day Workshop Opportunity: Family Training and Support for Children and Young Adults Autism Spectrum Disorder
Hello all!
We are absolutely excited to present to you one of the first events for the year that The Ayur Health will be collaboratively hosting together with Tammika from Sattva cantre and Dr. Dinesh K.S. from the Kottakal Ayurveda College in Kerala India, we will be presenting a 2 day training workshop for families and the community who are connected to children and young people who have Autism Spectrum Disorder (ASD). This event is simply not to be missed and is such an opportunity to assist individuals with ASD using holistic health and well being strategies found in Ayurvedic science and philosophy.
Dr Bosco Paul and Dr. Dinesh K.S. are both Doctors whose credentials and experience are extensive. Dr. Dinesh K.S. will be flying in from India just for this event and is a specialist who works as the Head of Department at the Kottakal Ayurveda College in managing conditions such as ASD through Ayurvedic medicine. Dr. Bosco is a highly experienced Ayurvedic Doctor and Educator working here in Adelaide as a lecturer for Equals International and is the founder of the Ayurvedic health care clinic Ayur Health. Please take a glance at the information material below for the full training schedule.
Tamika Harrison is a qualified and practising special needs teacher as well as an Ayurvedic Practitioner. Throughout my week, I work closely with children and young people who have ASD and and/or other learning, developmental and health care needs. Since implementing a combination of Ayurvedic health care strategies in conjunction with education practices, there have been vast improvements noted by families and the children themselves in managing certain challenges that come with ASD. For example, a greater regulation of sensory needs, increasing depth of sleep and relaxation, minimising challenging behaviour and stress, and increasing engagement and language. Like everything, ASD needs to be approached using a holistic understanding to which then provides more long term and permanent solutions. The above mentioned program is not just exciting in content it is empowering. Gaining knowledge and skills of how best support young people with ASD not only provides us as carers, the health care community and teachers with a toolbox of strategies, but also the young people themselves.
If you are keen to register for this event, please follow this link to secure your place. In addition, if you book before the 8th of July you will receive the Early Bird Price including lunch and all resources for the two days. And let's be honest, that's always a win.
With light and love,
Dr Bosco Paul
---
---